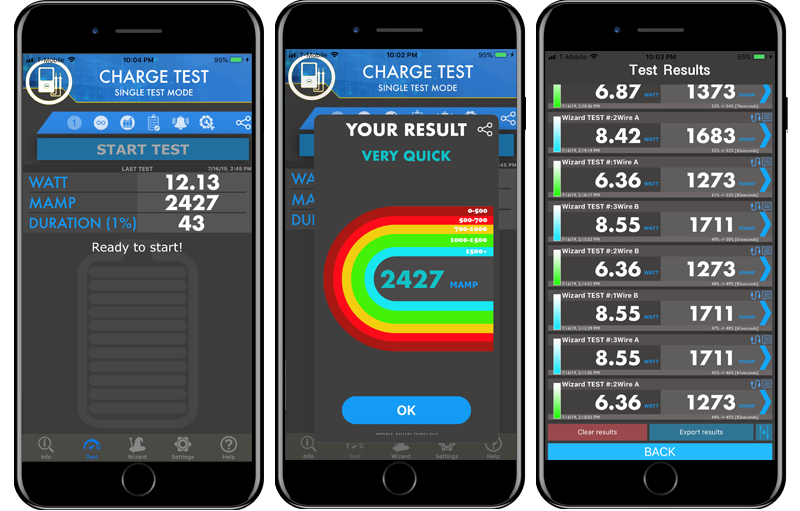 Cell Phone Users are Charged up over the Amperes App New Feature
Amperes, the app the world turns to for testing the wireless and tethered charging rates of their battery, has now added a new feature to their portal – the ability to compare charger test scores with others of the same device type globally.
Andrey Krasnov, CEO of the Albany-based Crisoft LLC, the parent company that developed the Amperes app, states this new feature is a natural extension of the app and one his company is proud to unveil.  "Ever since September 13, 2016, when iOS 10 was officially launched by Apple, all battery information apps on the App Store lost access to all their battery functionality but the most basic one. Amperes found a way to overcome this issue, and now uses the only real available way to test the charging rates of your battery." Andrey stresses that when time is of the essence and a drained cell phone is not an option, knowing which chargers are at peak performance is critical.  "Today, more than ever, we need to be connected to those around us – be it family or work.  We rely on our phone to do everything from alert us to meetings to conducting meetings to sharing photos, presentations, information about the weather, memes, and more.  And all this puts a rapid drain on your phone battery life.  When your phone is your lifeline it is critically important to know that the charger of choice is the best one for rapid replenishment of the battery.  You know a lot of people believe that just because their $1000 cell phone comes with a charger, that the charger is the optimal one for that phone or the marketplace.  This is not necessarily true. The only way to ensure your charger is the best fit for your phone is to download the Amperes app."
The Amperes app can be downloaded from the App Store for $1.99.  It is supported by over 15 different languages.  The app works on iPhone, iPad, and iPod touch.  It requires iOS 10.3 or later and 36.1 MB.
Promo codes are available to members of the press. For more information, please contact Andrey Krasnov.
CrioSoft
Amperes 4.0.13
Purchase and Download from the App Store
Screenshot
About Light4Soul:
Light4Soul is a multi-discipline creative shop focused on reimagining how brands connect with people. We are creative thinkers, strategists, and technologists that bridge traditional and digital solutions through storytelling evolving the consumer experience and creating the unexpected –  We remain steady in our mission to Create holistically and authentically – to never forget the end goal is to instill belief, project values, and to embody success and worth! This has given us opportunities to push boundaries, mix and match concepts, and  create brand partnerships.
About Crisoft:
CrioSoft is a developer and publisher of business and entertainment software. After establishing CrioSoft in 2014, we developed popular and well-respected apps and games for mobile platforms. By focusing on creating well-designed, highly desirable software, CrioSoft has maintained a great reputation for quality since its creation. We do work for our users. We listen, we implement, and we change. No user is too small, and no opinion is unimportant. Thanks to our amazing user base, our products continue to grow and become the best in their class. Our development approach is simple. We love what we do and are always looking to improve, and as a result we develop top notch products. We use the latest technologies and frameworks. All Material and Software (C) Copyright 2021 CrioSoft LLC. All Rights Reserved. Apple, the Apple logo, iPhone, iPod and iPad are registered trademarks of Apple Inc. in the U.S. and/or other countries. Other trademarks and registered trademarks may be the property of their respective owners.